Often, we physicists consider ourselves at the peak of the scientific fields - it's a
well-known sentiment
: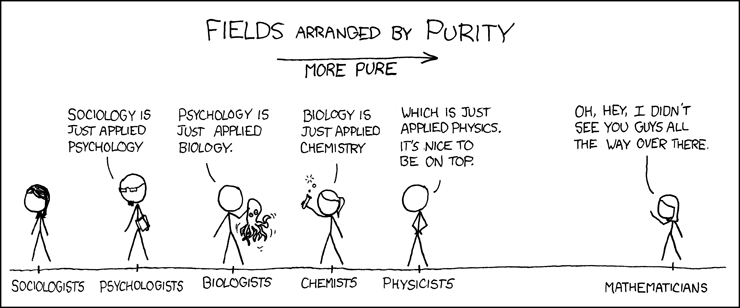 But I'm beginning to believe the line is too blurred to argue that the distinction still exists where it once did. Bear with me.
About sixty years ago, when nuclear physics was still a burgeoning field of study,
Fred Hoyle
(not yet Sir Fred Hoyle) did pioneering theoretical work to show that carbon-12, essentially the basis of all life, needed to have a special "trick" of nuclear structure called a
resonance
in order to exist as copiously as it does throughout the known universe. By looking at the amount of carbon in the universe and accounting for the temperature of typical stars, he worked out that carbon-12 had to have a resonance of a very specific strength and energy - and years later, that exact resonance was found. Hoyle had made (among many other successes) a tremendous and dramatic contribution to the infant field of nuclear astrophysics (and, by proxy, cosmology); the resonance has since been famously known as the "
Hoyle state.
"
Today, research in nuclear astrophysics continues, but we've come to a point of diminishing returns. We know generally what to expect now - surprises like the Hoyle state just don't arise any longer - and our work has boiled down to measuring cross sections to greater and greater precision and accuracy. Since there are no more Hoyle states to anticipate, we instead anticipate having a bit more beam intensity for our experiments or a bit less background noise. We build better detectors and better facilities to measure the reactions to 20%, 10%, 5%... and while this is
important
, I'm beginning to believe it's simply another form of stamp collecting.
Those same incredible surprises still exist - in the study of string theory (
superstring
theory) and quantum field theory (while I acknowledge that other fields, such as neurobiology, are also basking in the glow of their recent growth, I'm limiting my argument to fields within physics). These are the topics all of the popular science books cover, these are where the brightest of the bright go to strive for the next great discovery*. The cutting edge of
physics
lies at the heart of quantum field fluctuations and
supersymmetry
.
So where does that leave the rest of us who claim to be physicists? Can we really say that what we do, the measuring of a certain reaction to smaller and smaller uncertainty, is so different from an engineer whose job is to test hard drives to withstand greater and greater forces, or a technician who tweaks an MRI machine to get better and better resolution? Have we ceased to really do physics, and are now just glorified bean counters, relegated by virtue of our aging field to the category of "applied science"? Or can we still truly claim to be physicists, even if we no longer work at the bleeding edge of physics? Perhaps in the end it's all just a matter of semantics, and it doesn't really mean anything. But perhaps it does.
*oh boy... don't tell my string theorist friend I said that!